In 1998, mechanical engineer Niels Holme Larsen ( Nihola ) attended a cargo bike exhibition in Copenhagen. The following day, a critic from the Danish newspaper Politiken concluded that cargo bikes would only be able to compete against cars when they could transport two children and groceries at the same time in a light and stable cargo bike. After having read the review Niels decided to develop and build such a cargobike, which resulted in the Nihola Bike. For the first 100 bikes Niels did all the metalwork, put in frame numbers, assembled, and sold these first 100 cargo bikes from a backyard in Vesterbro Copenhagen. Beside this he still did work as engineer, but left this job to work fulltime producing and developing the Nihola products.
Today, 23 years after, Nihola develops and produces cargobikes for families, Rehab/handicap-, institutional- and commercial use. Nihola developed and produced 1600 postal bikes in 2011 for the Danish Post. These cargobikes are still in use in 2021 after 250.000 start and stops.
The goal and vision of Nihola was to become the market leader on the Danish market. With more than 10.000 nihola bikes in Copenhagen this goal has been fulfilled. Todays vision is to stay competitive on the Danish market while obtaining higher market shares in Europe and North America – we currently have dealers in most European countries, Canada and the U.S.  
Proven quality and proven minimal loss of value. Example of "100 years of normal use" for the cost of half a euro in loss of value per bike per day
We developed and produced 1600 Postal Nihola bikes 10 years ago for the Danish Post. These industrial cargobikes are still in use in 2021. When a normal cargobike rides 1 km these cargobikes ride 10 km. When a normal cargobike has 1 stop these cargobikes have 10 stops. The postalbikes have been in use for 10 years. The simple calculation is 10 years of use x factor 10 in use, which means 100 years of normal use for a cargobike.
We do not have a sales department at Nihola. Instead, we use the savings on this for keeping the control and topquality in our Danish production. In loss of value the cost for using these industrial postalbikes has been less than half euro pr. day. Less than the cost of the salary of 1 min. of the rider.
We are proud of our Danish production in our modern production facilities of 2000 sqm. factory located 50 kilometer west of Copenhagen. In our factory all our cargobikes are proudly hand build and carefully quality tested before shipment. We even produce the frames in Denmark, where also the frames are powder painted in the highest available quality. Nuts and bolts are stainless steel as well as all visible "shining" metal parts.
Our cargobikes has won several "best in test" and Nihola Bikes has won several company awards prices in Denmark like the prestigious Gazelle Award 5 times. We can send our letters with our own Nihola Stamps and the Danish Royal Family has been using our cargo bikes. These facts we are both proud and humble about.
Niels Holme Larsen is still the owner of Nihola Bikes and works on a daily basis in Nihola.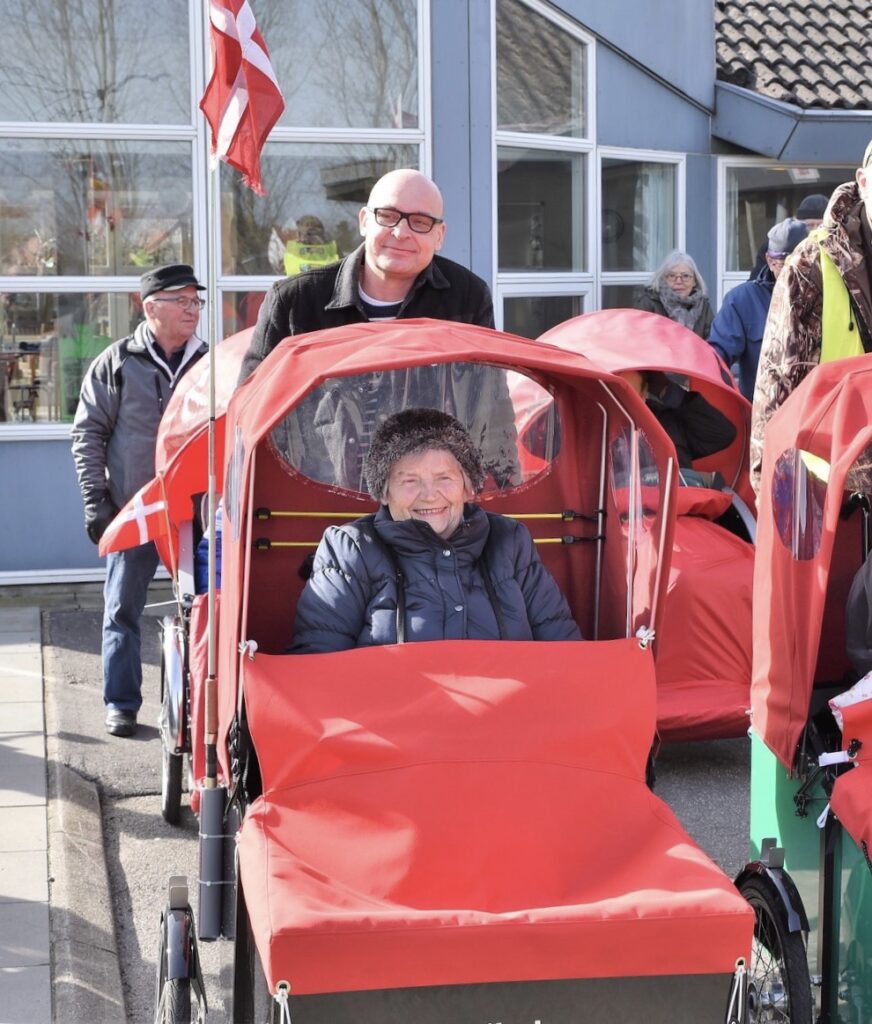 C.E.O., Niels Holme Larsen, driving the FLEX2 model.